12th Annual Rockin' Resiliency Luncheon
Sunday, October 30, 2022 | 11:30 a.m.
Royal Sonesta Hotel,
2222 West South Loop, Houston 77027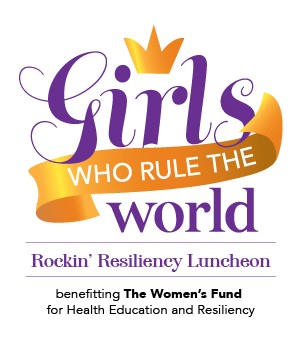 Co-Chairs:
Laura and Lucy Davenport | Luba, Katya, and Keira Bigman
The John P. McGovern Foundation "Champion in Women's Health":
Mariam Chacko, MD
Sue Trammell Whitfield Award for Resiliency:
Maureen Sanders
Guests along with girls and women who participate in The Women's Fund's Health Education classes are invited to a fun-filled afternoon: silent auction, baubles and bubbles champagne raffle, and more.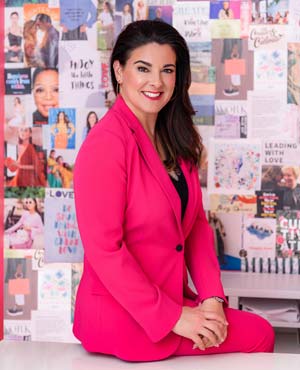 Keynote Speaker: Elaine Turner author of the book, Breaking The Glass Slipper: Debunking The Myths That Hold Women Back.
Luncheon: features a keynote speaker who shares an inspiring story of courage and perseverance as it focuses on resiliency!  Each year our Sue Trammell Whitfield Award for Resiliency is presented to a worthy individual who exudes Sue's dedication, leadership and philanthropy to Girls' and Women's Health issues.  For the third time, we will be presenting The John P. McGovern "Champion in Women's Health and Wellness" Award to a deserving health-related professional in recognition of Dr. McGovern and his Foundation's long time support of our mission.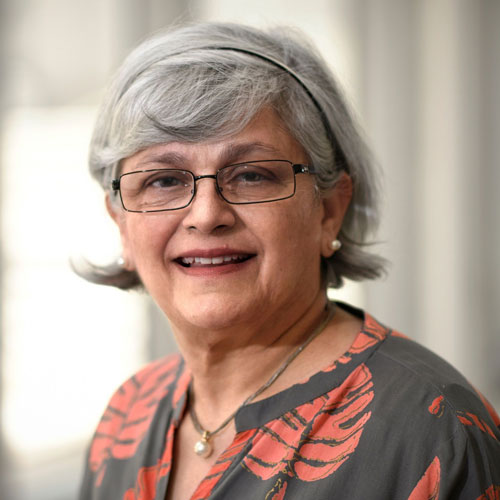 Mariam Chacko, MD
The John P. McGovern Foundation "Champion in Women's Health and Wellness" Award
About Mariam
MARIAM R. CHACKO M.D., FSAHM
Dr Mariam Chacko is Distinguished Professor Emeritus, Departments of Pediatrics and Obstetrics & Gynecology at Baylor College of Medicine. She also holds emeritus appointments at Texas Children's Hospital and the Baylor Teen Health Clinics. Dr Chacko retired from clinical practice in June 2020 and continues to collaborate and mentor faculty and staff at the Baylor Teen Health Clinics and the Division of Adolescent Medicine & Sports Medicine in clinical research. Dr Chacko's direct clinical services prior to retiring included preventive health care, hormonal contraception, common gynecologic problems, and eating disorders in adolescents and young adults.
Dr Chacko was born and raised in India. She attended Christian Medical College and Hospital, Ludhiana, Punjab, India and completed a rotating internship at the same institution. In November 1974, Dr Chacko emigrated to the USA and by July 1976, began her residency in Pediatrics at Baltimore City Hospitals, affiliated with John Hopkins University. An Adolescent Medicine Fellowship was the only way to combine her keen interest in general medicine, gynecology and behavioral medicine and her training began in 1980 at the University of Maryland Hospital, Baltimore. This fellowship program included a national adolescent health leadership training program through the Maternal Child Health Bureau which gave her the opportunity to be trained in an interdisciplinary milieu that included supervising physicians in Adolescent Medicine, Ob Gyn and Psychiatry and doctoral faculty in Psychology, Nutrition and Social Work. Her interest in reproductive health care, especially sexually transmitted infections and contraception in adolescents began here. Her first real job in the USA began in July 1982 at the same hospital and program and included coordinating a large Robert Wood Johnson Foundation funded youth health project at a local STI clinic. This job enabled her to gain in depth clinical experience in STIs, especially the clinical manifestations of syphilis.
Dr Chacko moved to Houston in the summer of 1984, joined Texas Children's Hospital (TCH) in August that year. The hospital did not have an Adolescent Medicine program and she started a Teen Clinic. By 1986, a new section and service for Adolescent Medicine & Sports Medicine led by Dr Al Hergenroeder began at TCH. Dr Chacko also began her partnership with the Baylor Teen Health Clinics, pioneered by Dr Peggy Smith. At its core, the leadership comprising Drs. Smith and Hergenroeder has Dr Chacko bridging the two programs through direct patient care, supervision, education of clinicians and collaborating with administrators to implement and sustain excellent preventive clinical services for youth in a broad range of clinical settings. Expansion of clinical services for youth by the Baylor Teen Health Clinics transpired over 46 years from one clinic to eight clinics, four in high schools and 4 in family planning clinics. TCH today has a premier Adolescent Medicine program including outpatient and inpatient eating disorder treatment and sports medicine. The best of the Medical Center expertise in Adolescent Medicine and Sports Medicine has been brought to youth in the underserved areas of Houston and enabled population-based medical services in a shelter facility, high schools, and family-planning clinics.
Her clinical research interests in reproductive health in young women, sexually transmitted infections, and hormonal contraception has been supported by local and federal grants including a NIH RO1 award. In fact, her very first grant of $2500 in Houston was awarded by the Women's Fund to assess sexually transmitted infections at the Baylor Teen Clinics. That seed money was the foundation for future projects. She has authored and coauthored numerous publications and book chapters. She has served on NIH study sections, and been an adviser to Adolescent Medicine physicians locally, in the region, nationally and internationally and Dozor Visiting Scholar, at Soroka Medical Center, Ben Gurion University, Beersheva, Israel in 2017.
Over the years, Dr Chacko has long enjoyed the company of her husband, staying connected with dear friends, son, and daughter-in-law. She works out at a gym with a trainer and dabbles in painting projects, the most recent being the pots in her front yard. She travels back and forth to India frequently to visit her mother and siblings. She has almost come to the end of a collaborative writing project about her aunts, the oldest of whom attended medical school in 1919 and six senior female cousins in India, four of whom became doctors in the 1940s and 50s. Dr Chacko has also been collaborating with art consultants for almost ten years promoting her maternal grandmother's art works in the context of refugee artists and tracing artwork lost during the Nazi era.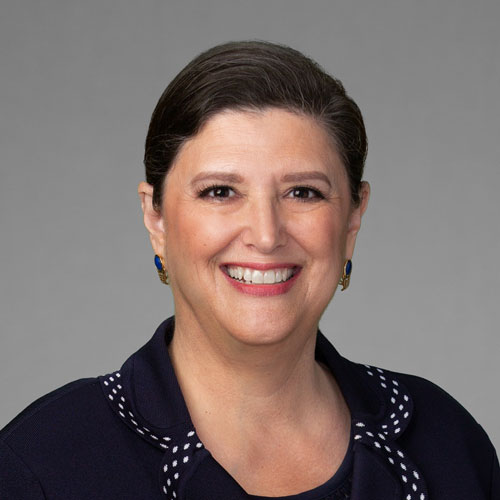 Maureen Sanders
Sue Trammell Whitfield Award
for Resiliency
About Maureen
Maureen Sanders
Maureen Sanders is an outstanding executive with more than 25 years of leading financial and nonprofit organizations. Currently she serves as the President & CEO for San Jose Clinic, one of the oldest safety net charity clinics in the country located in Houston, Texas. At this faith based charity clinic providing medical, dental, pharmacy and ancillary services for 4,000+ patients annually who are underserved, uninsured and live at 250% or below the Federal Poverty level, she also manages a staff of 50+ and volunteers in excess of 600 with an annual budget of approximately $10 million.
Maureen was also a career bank executive in Houston from 1981-2009, encompassing roles including marketing, business development, private banking customer relations, and earned the organizational award Top Corporate Champion for Women Owned Businesses in the Greater Houston area. Maureen is a current founding board member of a new community bank based in Houston, Agility Bank, which opened in April, 2022. Agility Bank is the first primarily women-owned and led bank created for the purpose of being designated a Minority Depository Institution (MDI) by the Office of the Comptroller of the Currency.
She currently serves on the board of the Texas Association of Charitable Clinics and the Greater Houston Health Connect. She is an active member of the National Association of Free and Charitable Clinics,
Charity Guild of Catholic Women, The Professional Group and the River Oaks Women's Breakfast Club. She has spent many years in the Houston community contributing her time and service on boards of chambers of commerce, Texas Executive Women, the Federation of Houston Professional Women, and Texas Medical Center- Women's Health Network.
Bookings
Bookings are closed for this event.